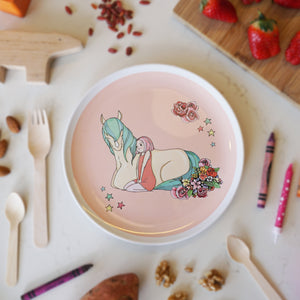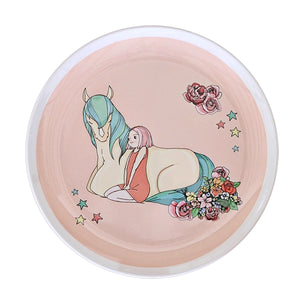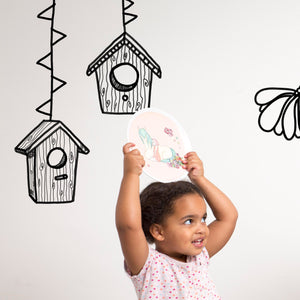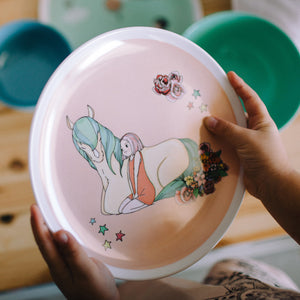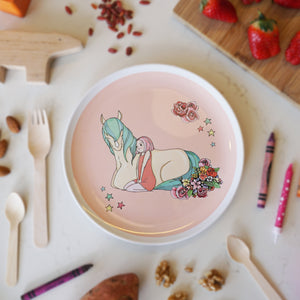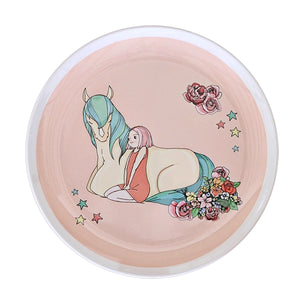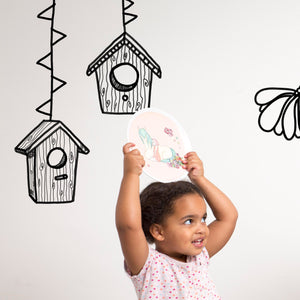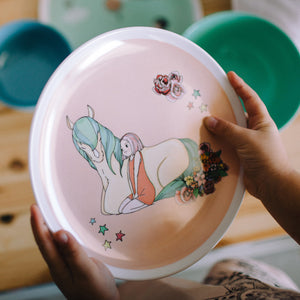 On Sale
Penny & Willow-Illustrated Unicorn Melamine Kids plate
Add a playful, colorful update to every meal with our unique design of Penny and her favorite horse, Willow. Our children's set is both light and durable, and BPA free, making it ideal for every meal, hot or cold.

All of our designs are hand drawn and unique. The designs are embedded in high quality long-lasting print. All items are dishwasher-safe, light weight and very durable.

Product Details

1 x melamine plate, Penny and Willow design, Diameter: 8" (20 cm)

1 x Small melamine bowl, Penny and Willow design, Diameter: 4.3" (10.9 cm)

BPA- and lead-free

100% dishwasher safe

Material

All our dishes BPA free and our standard-size (6") bowls are perfect for adults and kids as one, while being light and durable makes them safe for toddlers as well.

Our dinnerware plates and bowls meet the highest standards and are light, durable and 100% dishwasher safe.

Turn meal time into an adventure and a fun experience all-around for your child. These illustrated plates will quickly become a favorite thing about meals in your child's life that they'll have yet another thing to look forward to when you call them for lunch or dinner!

Hand crafted with an incredible amount of detail and attention put into them, these plates cater to the creative minds of our kids, giving them a wonderful vent through which they can exercise their imaginations and creativity even while eating.
The dishes are made from food-grade materials, they are virtually unbreakable and are completely safe for dishwashers.

Your child will have a unique, personal, plate for each meal, something they can explore and enjoy every time they sit at the table. Thanks to the colorful and imaginative designs, every meal will turn into an adventure and a game that your child will love experiencing while also gathering memories that will last them a lifetime.

Differentiate your kitchen utensils when your kids are in question because this gives them wonderful memories and experiences throughout their daily routines that will stick into their memories so they can fondly reminisce of all the fun times they had during meals.