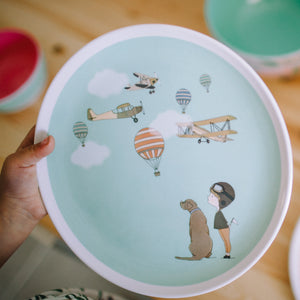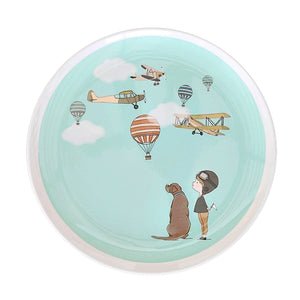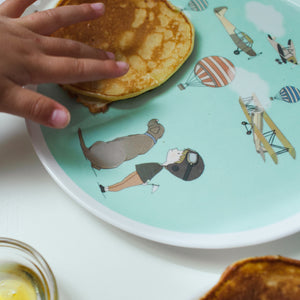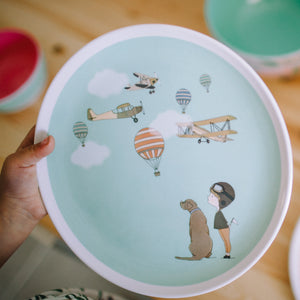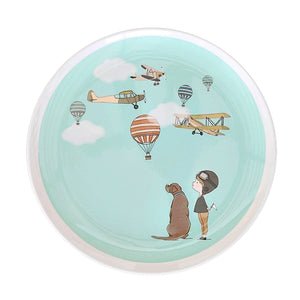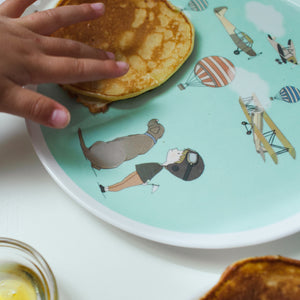 On Sale
Tom & Lucy Illustrated Melamine Kids Plate
Melamine Plates For Kids Melamine Plate TOM&LUCY Illustrated Plate For Children Dinnerware Plate Handmade Painted Kids Plates Melamine Dishes
Kids LOVE -- simply LOVE these dishes.
First of all, no one else has anything like that -- and that's a big thing; gotta have stuff that you can brag about and get people jealous!.Secondly, they are virtually indestructible (BPA-free, clean and safe melamine) -- so the kids can treat them like they indeed own them -- what a secure feeling!
These Children's dishes will make every meal magical! Why restrict fun to just tea parties? Let's make life wonderful and add a touch of personality, self-expression and dream to their everyday routine.
This dinnerware set of plates is designed just for that. Made of durable, BPA-free melamine plastic and individually hand-painted by a local artist, these dishes carry a touch of the warm, positibve energy only handmade gifts have. Each one is unique: no mass production here, everything is made by Daria herself, with caring thoughts and lots of love for children and animals
So, give mealtime a playful, colorful update with our original illustration plate of Tom and his dog, Lucy out watching planes and hot air balloons, and dreaming about far-away adventures.
Also available in various sets,
Our designs are hand drawn and unique. The dishes are dishwasher-safe and durable. The designs are embedded in high quality durable print. They are light weight and very strong - perfect for kids of all ages.
Theme: Tom and Lucy sky-gazing; Aqua green color pallet
100% ORIGINAL ARTWORK
Plates are made of melamine
Dimensions - 8" (20 cm) diameter
BPA- and lead-free
Top-rack dishwasher safe
Kids absolutely adore colorful and fun things. If you can introduce something of sorts into their meals as well, you'll have a mess-free time for food in your homestead as well as a very happy child!
Not only colorful and fun, these plates are almost indestructible! Even if your little one is somewhat rowdy, these dishes are not likely to crack or break, no matter how much stress is put upon them.
So, why don't you dive in and give meal time a fun little spin that will be certain to put a smile on your child's face, making every sit-down at the kitchen table a fun activity that they will, no doubt, look forward to each time. With fun and colorful designs, these plates captivate the child's mind and turn every meal into a little adventure that they can enjoy over and over again!
Each plate is unique and has that, special, hand-made feel that gives these dishes the, much needed, edge to stand out in a sea of mass-produced products that are simple, monochrome and, plainly, bland. The plates are made by someone who has lots of love for children, so rest assured that they are made with special care and thought put into them.