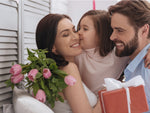 The holidays are right around the corner – are you ready? Have you started your shopping yet? If you are like the rest of us, then you are looking for a nice and easy way to buy awesome gifts without having to subject yourself to long lines and crowded stores. 
To kick off the shopping frenzy – and to help you keep your sanity – we've put together this 2019 Women's Holiday Gift Guide. We are sure that you will find something for every woman on your list. And, are you ready for the best part? You don't even have to leave your home! 
This year, consider giving a gift that will enchant all the women in your life – a carefully selected gift box. Receiving one of these amazing creations is like getting many different gifts all in one! Milky Chic offers many different gift boxes to choose from. Plus, they can be customized so that the recipient is sure to love everything wrapped up inside. 
These one-of-a-kind, snazzy gift boxes can include items, such as: 
Lip balm

Bath salts full of aromatic fragrances

16oz travel mug

Nutrient-rich body butter

A "Be kind and Be Happy " makeup bag

Colorful notebook illustrated by the artists of red cap cards

Soft socks with loveable quotes

Delightfully-scented candles

And, so much more. 
Milky Chic offers such a variety of gift boxes that you are sure to find one to find that matches the style of the women on your holiday shopping list while also meeting your budget. 
Or perhaps the women on your holiday list may like one of these terrific gifts - 
We often hear the word mindful and how we ought to be practicing it. But, not everyone knows where to start. This brightly-colored box is full of 50 prompts and exercises that will help the recipient stay present, breathe easier, and connect with her body. $16.95 from Uncommon Goods. 
With the busy-ness of life and the constant need to be on the go, it is so easy to get caught up in the drive-thru way of life. Unfortunately, this can lead to an unhealthy body and a foggy mindset. Help the women in your life maintain a healthy body and mind with this lunch bag made of linen and paper. It is stylish, washable, and convenient. No matter how busy she gets, she can always be prepared with some good nourishment on the go. $42.00 from Uncommon Goods. 
Ember Temperature Control Smart Mug.
Why? Because no one likes cold coffee or tea! When distractions occur – as they always do – the recipient of this delightful mug won't have to worry about missing out on the warmth. $69.00 from Ember Technologies. 
Automatic handbag illuminator.
Do you know a woman who can never seem to find what she is looking for? You know, that one friend of yours who always has to dump out her purse to find her keys. This handbag illuminator can be used in a purse, backpack, gym bag, or wherever a little light is needed. Small, convenient, and very necessary. $29.95 from Uncommon Goods.
Drinking water is so important. But, life keeps us busy and sometimes it is easy to forget how much we drink – or forget to drink at all! This smart water bottle will allow the recipient to keep track of her water consumption very easily. It will even remind her when it is time to drink! $59.95 from HidrateSpark.
MOSCHINO + SEPHORA Pencil Brush Set.
First of all, what woman doesn't like Sephora? Let her indulge in her makeup routine with this pencil brush set that can bring a soft touch to an already beautiful face. $29.00 from Sephora. 
Fountain Gifts Relax & Renew Gift Box.
Visiting the spa is not always an option. But, creating an at-home spa day is. With this pampering gift box full of everything you need for the best self-care, women everywhere will forget they are in their own bathroom! This gift set includes: Exfoliation Sugar Cubes By Harper + Ari, Rose Colored Glasses Candle by Voluspa, Charcoal Pore Care Mask By Lapcos, Pearl Brightening Mask by Lapcos, Set The Mood Match Box by Paddywax and so much more! $165.00 from Giftagram. 
Find any great, unique gifts that you know other women may love? 
Share them in the comments below!