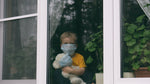 We know that quarantining and shutting down our world is one of the best ways to stop the spread of the coronavirus or, more specifically, COVID-19. In theory, staying at home helps us avoid others so that the disease will just die out since it has nowhere to go, right? But, if you have active kids – as most of us do – you may be wondering how in the world will they get through this!? 
Parents everywhere around the world are asking themselves this very question. Listen up – telling a kid they are going to be stuck at home for an indefinite amount of time can make it seem like a prison sentence! It is up to you to show your kids that they can – and will – survive these quarantine orders. 
Mom and dad – are you ready for this? Now is the time to take steps to reduce the overall psychological impact all of this may have on your kids. Here's how you can do just that: 
Establish routines. In nearly everything our kids do in life, there is a routine. Most kids thrive when they have some sort of structure, don't they? So, it is up to you to keep that in place. Sure, it may look entirely different from your normal routine, but make a schedule and stick to it every day. Just taking this step can give children a sense of normalcy. 
Be active. Sitting dormant in the house can take a toll on our physical health. And, in turn, it can impact our mental health. Watching TV or playing video games is fine for a set time during quarantine, but make sure your kids are getting physical activity, too. Need ideas? Check these out… 
Find family workout videos online and do them together as a family. 

Play

Simon Says

and let Simon have your kids run in place, dance, do jumping jacks, and more. 

Move the furniture to clear a big space for a soccer or hockey match right there in the living room. Or create a makeshift basketball hoop and have a game!

If you have toddlers, design an obstacle course for the little ones to run through – over and over, again. 
Of course, if you have the ability to walk outside, then do so. Take a walk, a run, or a bike ride. Just be sure to stay safe and practice social distancing. 
Stay busy. Boredom is a huge problem when it comes to being quarantined. This is especially true for kids. Keep them engaged with activities, whether schoolwork, art projects, movie marathons, and so forth. The walls around them don't feel as restrictive when they are focused on something else. Make sense? 
Turn off the news. Look, it is important to be informed – we all know this. But, it is important for you to be informed, not your kids. It's ok to be real with them about what is going on, but don't bombard them with all the news reports and images. They don't need to see this on the screen or hear the desperate words for those who are fighting the virus. 
Truth is, most of us have never been in a quarantine situation before. And, that's ok. We are going to get through it – and life will get back to normal with time. 
Share your pics! Milky Chic wants to see how you are keeping your kids busy during this pandemic! Share your awesome art projects, obstacle courses, and smiling faces with us in the comments below!